You have your fear, which might become reality; and you have Godzilla, which is reality. ~ Ogata
Friday night means two things: Cheep and Cheerful and a Godzilla movie, GRRRRRRRRRRR. Last night was Godzilla vs. Gigan. Godzilla and Anguirus team up to beat King Ghidorah and Gigan. 
Impossible you say? That's what I thought too. Gigan is part bug, part parrot, part table saw and part night rider and King Ghidorah is monster zero. 
Gigan and King Ghidorah almost win. Then we discover Gigan and King Ghidorah are being controlled by outer space cockroaches trying to take over the earth! That's right outer space cockroaches.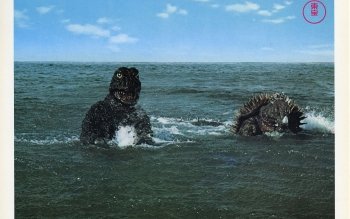 Once Godzilla and Anguirus defeat the outer space cockroaches and then Gigan and King Ghidorah, they head back to Monster Island. That's where they keep their industrial strength yarn stash for cardis. I think they're off to make Gigan and King Ghidorah special jumpers. It's cold in outer space. I think King Ghidorah would like an intarsia sweater with Godzilla on the front. 
The night's cheep and cheerful selection was from Wicked Cider Co. The flavor is Green Apple. It was delightful paired with my taco salad. 
Gracie isn't a Godzilla movie fan. I think she's frightening he's going to use his atomic ray to melt off all her fur! I managed to get two more rows of twisted ribbing completed on Plum Bias while protecting a sleeping Gracie during this movie. I'm so close to two inches!