"I know all about you. Sex for dinner and death for breakfast."
Over the holidays, the British Hubby and I took a slight hiatus on our Friday night Bond movie marathon. Die Another Day was our next movie. This is the last movie with Pierce Brosnan as Bond. I've been pondering why I enjoyed this movie more than some of the previous movies. Was it because it's been a few weeks and absence makes the heart grow fonder? Or is it because we have a new foreign enemy with North Korea as the villain in this movie? The stunts and explosions definitely felt refreshingly new in this movie.
The opening stunt where they surf into North Korea undetected was pretty awesome. And naturally, the best way to cross a minefield is with your own hovercraft that comes equipped with missiles and a flame thrower.
The opening theme song is done by Madonna. She even makes a guest appearance in the movie.
The ice hotel scenes were pretty neat. Sleeping in an ice swan sculpture doesn't really sound that appealing, but I appreciate the attempt to do something original.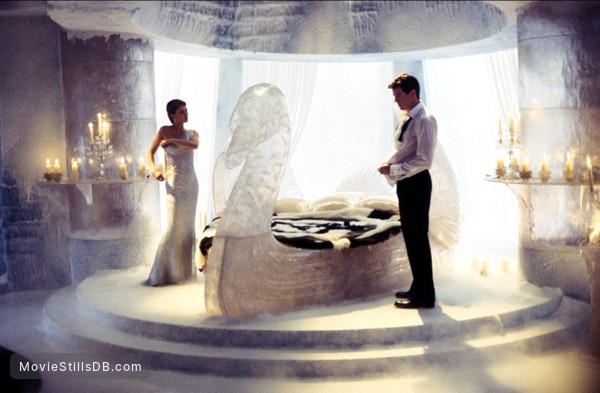 Like so many Bond movies, this one was still over the top with explosives and quips. It did provide a much needed Friday night distraction from the horrible events of last week.
2021 is the year of opportunities, possibilities and listening. That could mean listening to your own body and what it truly needs not just to survive, but to thrive. To that end, we deviated from our traditional Friday night pizza with a spiral ham. Ham is a great building block for so many keto recipes.
This movie was so intense, I decided to work on something that didn't require me to keep referring to a pattern. Chevrons of Christmas has a two row repeat. That is easy enough to memorize, and perfect for movie watching. Excitingly, this scarf is now ready to introduce color two.
Some how Gracie managed to sleep through all the explosives. She is so adorable when she sleeps.
May this week bring you joy and compassion.