Even big lizards aren't immune to shiny baubles. 
Last Friday, the British Hubby and I watched the first Godzilla movie in honor of Friday the 13th. We realized neither one of us had seen every Godzilla flick. We've declared Friday night is Godzilla movie night until we've watched everything Godzilla themed. This is going to take us some time. We're using this website for the viewing order.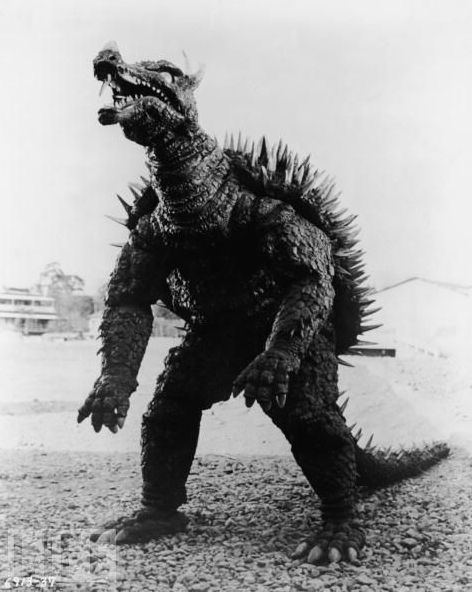 According to that viewing order, Godzilla Raids Again was the second movie to watch. The British Hubby thought it was Godzilla Rides Again. He kept waiting to see Godzilla riding a motorcycle. We decided that Godzilla would ride a Japanese sports bike for speed. Although a Harley or Ural would be roomier for his tail. Sadly, there wasn't a single motorcycle in this movie.
We were a bit confused how Godzilla survived the oxygen destroyer from the first movie. It turns out he didn't. There was a second Godzilla along with an ankylosaurus. This second Godzilla has no respect for history. He killed the ankylosaurus and destroyed Osaka Castle. No wonder the Japanese wanted to destroy Godzilla II. They tried to lure him into the depths of the sea with flares, but a jail break gone wrong torched a fuel depot thus attracting Godzilla II back to the shore. Personally, I think Godzilla is just misunderstood. Look at the teeth on him. He really needs to see an orthodontist. He's even less likely to get a knitted cardi than the first Godzilla. Or maybe Godzilla II loaned his knitted sweater to the ankylosaurus? Naturally, the ankylosaurus put holes in it with his spiky tail. Can you blame him for being angry? 
Godzilla II was killed by an avalanche. I'm not sure why he didn't use his atomic breathe to get out, but maybe that's the next movie. These black and white classics are in Japanese so I have to strategically pick my knitting project so I don't miss the subtitles. Ribbing on a hat is the perfect mindless knitting project. I started a new gift, Seahawks Baby Hat, for a coworker expecting baby number two. The pattern is Baby Tassels Hat. I'm using Malabrigo Rios in Paris Night & Apple Green. I had to make a few alterations as I think the original pattern is a bit on the small side. I'm using this website for more accurate measurements and sizing. 
Ernie couldn't believe Godzilla Raids Again had two monsters. It was too intense for him so he had to close his eyes. You might mistake it for sleeping.