Today's forecast: cloudy with a chance of Godzilla.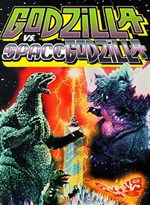 The work week and that means a Godzilla movie. ROOOOOOOOAAAAAAAAAAAARRRRRRRRRRRRRRR! Next up on the list is Godzilla vs. SpaceGodzilla. This movie was produced in 1994. I love the explanation of how SpaceGodzilla was created. G cells from Biollante were released into space. Those cells went through a black hole and became an evil monster. (Remember, Biollante was also created from G cells.) Talk about great B movie writing.
Even Godzilla movie has the possibility for conspiracy theories. There's an operation called Project T, telepathy with Godzilla.
This movie had so many great story plots including mind control, sunset walks on the beach, a love triangle that includes Godzilla, Godzilla's love child, a mad scientist, the Japanese mafia, black holes and a robot.
This week's cheep and cheerful is taking a slightly different approach. It's Mini Tuna Melts. These have 1 net carb and are amazing. They're amazing hot or cold. Quick to assemble, I could easily make these after a grueling day at the day job.
The British Hubby asked for these to be made weekly. I doubled the recipe to make 12 instead of 6. I also added a hint of mustard and a huge spoonful of dill.
Another two hours of progress on my Plum Bias. The first skein is getting smaller and smaller. It's now 6.71 grams. Look, even the Christmas elf is bigger than the first skein.
Just 123 days and 11 hours until the new Godzilla movie!