"I'm not going to live by their rules anymore." ~ Groundhog Day
It's Groundhog Day. Oh wait, was that yesterday? What could be better than a Godzilla movie and Groundhog Day? Maybe if Godzilla made an appearance in Groundhog Day? I would get a chuckle to see Godzilla as an extra. The next movie in our Godzilla anthology was Godzilla vs. Destoroyah. I'm not going to give away too much of the ending, but both the British Hubby and I were in tears at the end. I suspect when this movie was made it was intended to be the very last movie in the Godzilla franchise.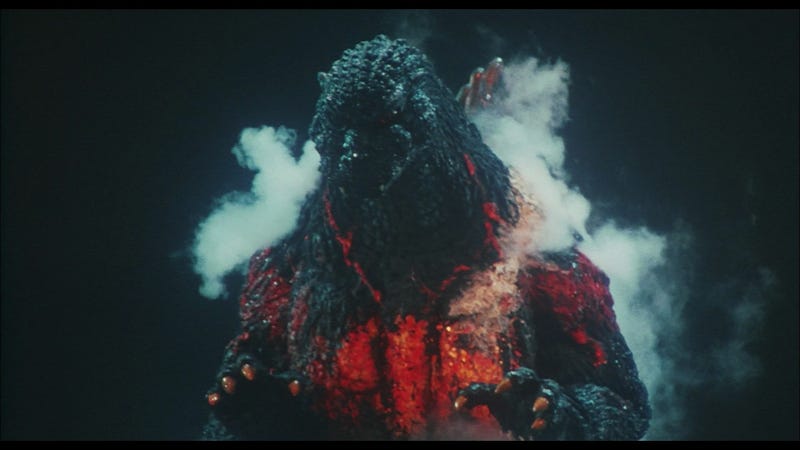 This movie has some elements of Groundhog Day. Once again, the Japanese government is trying to figure out ways to manipulate science to neutralize Godzilla. Birth island melts and the nuclear fission heats up Godzilla which means he's either going to explode or have a nuclear melt down. Naturally the only defense is a cryogenic laser that freezes Godzilla.
Did I mention there's also a beast that uses micro-oxygen based off the science behind the oxygen destroyer in the original 1954 Godzilla movie? The British Hubby and I have been enjoying our Friday night Godzilla movie nights. We slowly started becoming fans and rooting for Godzilla. After this movie, we are die hard Godzilla fans. We're hooked.
The first skein on my Plum Biased is almost finished. Just 3.73 grams left. That's at least one more Godzilla movie.
This week's cheep and cheerful is a special edition stout from Black Raven Brewery. I really enjoy their coconut porter. This was good, but no replacement for my favorite.
I think Gracie is getting ready for a Godzilla attack.
116 days and 15 hours until the new Godzilla movie! ROOOAAAARRRRRRRRR!
Hope your weekend is going well. We're gearing up for a snow storm.