"They may take our lives, but they'll never take our freedom!" Braveheart
For 3/4 of the past year, the British Hubby and I had been working our way through every Godzilla movie created in preparation of the newest movie that was released in May. As you can expect, Godzilla leaves a bit of a gaping hole in your life. I imagine that's how rebuilding after his destructive path would feel. How does one Godzilla proof a building or a house?
Friday night is now Brain Out B Movie or Cult Classic movie night. Since July is shark month, we thought we would watch Jaws 3 to start our double feature. Some movies are timeless and other movies look really dated. Jaws 3 was meant to be viewed in 3-D. Watching non 3-D fishy bits and severed body parts floating across the screen is just odd. This story takes place in Florida with the opening of Sea World in the 80's. You can tell this was a block buster movie in it's day, but it really hasn't dated well.
The second movie of our double feature was from a follower suggestion. (I love watching follower suggestions). The Abominable Dr. Phibes was B movie fantastic. It's proper genre is horror comedy. The first spoken words happen 10 minutes into the movie. Until then, one is left to ponder the events that unfold.
The costumes were fantastic.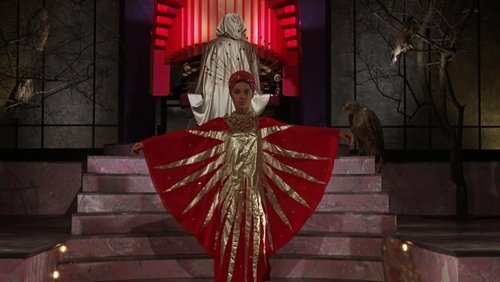 I'm currently trying to figure out how I could wear this outfit to my day job and still be considered professional. Do you think the headpiece is over the top? Or maybe its the feathers. I guess it is a little over the top for the day job.
And how does one top people in costumes that are meant to look like puppets or blow up dolls playing instruments?
Once you get passed the over the top costumes there's the unbelievable yet believable story plot. Murders based off the 10 curses from the pharaohs. Each murder is more ridiculous than the previous.
We tried a new to us pizza last week for our double feature. It was a BBQ bacon cheeseburger pizza. It was a bit salty and would have been better if it came with a stuffed crust option. I did enjoy the sour cherry cider. The pizza we probably won't try again.
Since I've been on a wip kick lately and it's shark month (if you notice I even have my Jaws project bag in use), I thought I would pull out my 1500 Yards of Adventure Knitting. It's in block number four, and it's huge.
I keep thinking I'm almost done until I see how big the other blocks are. Eek, that's still quite a bit of knitting.
Burt loves how big this project is. He can snuggle, and I can knit. Kitty heaven.
Like always, I'ld love to hear from my followers. If you have movie suggestions, leave them in the comments section.